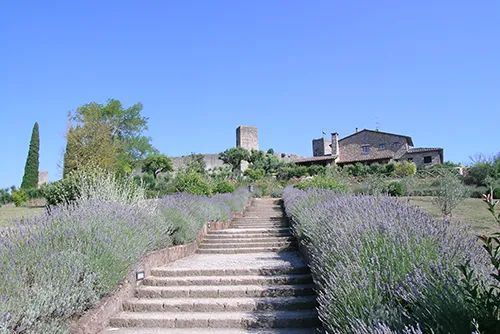 Monteriggioni is a medieval village near the Macinatico farmhouse and is perfect for a half-day trip.
From the Macinatico farmhouse in San Gimignano it only takes about 30 minutes along the Florence-Siena highway (taken from Poggibonsi and exiting at Monteriggioni) to reach the delightful medieval village of Monteriggioni
Once you reach your destination, you can leave your car at the Cipressino parking facility and walk down the road to the village, or drive to the Castello parking facility, which is smaller but located very close to the walls that surround the village.
What to see in Monteriggioni
The castle of Monteriggioni, built between 1214 and 1219, is a very small medieval fortification that can be easily visited in a couple of hours, lingering afterwards to eat at one of the many typical restaurants in the area.
To visit Monteriggioni is to immerse yourself in a distant past that will seem very real. Not to be missed is a stroll atop the walls, from where you can admire the olive groves below and imagine the grueling battles that were fought here to defend the Republic of Siena up until 1555.
The historic center of Monteriggioni, enclosed entirely by walls, can easily be visited on foot. The heart is Piazza Roma, on which the church of Santa Maria Assunta stands. This church was built in the same period as the castle at the beginning of the 13th century. In the center of the square there is an ancient well, which is the protagonist of many legends. According to one of these, at the bottom of the well there are a series of underground tunnels that supposedly lead all way to Siena. In these tunnels, the soul of Captain Zeti, still without peace after the betrayal that led him to hand Monteriggioni over to the Florentines in 1554, still continues to wander.
Also worth a visit is the Monteriggioni Armor Museum, which contains many reproductions of medieval armors, some of which visitors can even try on!