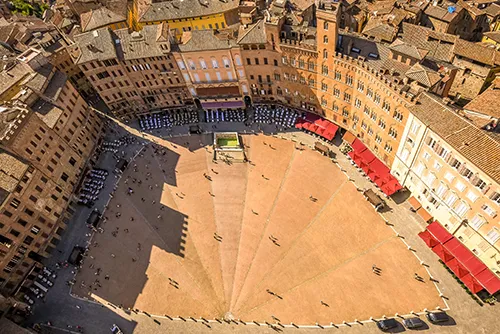 A day-trip to Siena during your stay at the holiday farm is quite doable, and the ideal way to explore the historic center of Siena is on foot.
The Macinatico holiday farm is 45 kilometers from Siena. It will take less than an hour via the Firenze-Siena highway, which you can take from the town of Poggibonsi. Exit at Siena Ovest. A trip to Siena during your holiday farm vacation near San Gimignano represents a fantastic opportunity to enjoy a city steeped in history.

Siena's historic center can easily be explored on foot and a day spent there will allow you to see the most important sites.
What to see in one day in Siena
Where you begin your exploration of Siena will depend on where you park your car. However, the historic center is compact enough to be easily visited on foot. The must-see attractions are all more or less in the area between Piazza del Campo and the Duomo, which are just a 5-minute walk away.
Piazza del Campo is the most photographed square in Siena. It is the civic and artistic heart of the city. With its characteristic shell shape, it is one of the most beautiful and best-preserved medieval squares. Standing on one side is the Palazzo Pubblico (the city hall), with its tower, called the Torre del Mangia. The Palazzo Pubblico houses the Museo Civico, where you can see fresco cycles that include Ambrogio Lorenzetti's celebrated "Allegory and Effects of Good and Bad Government" and, among the religious subjects, Simone Martini's Maestà, one of the most important frescoes of the 14th century.
Lastly, in the summer, keep an eye on the calendar: on July 2 and August 16, the ultra- famous Palio di Siena is held. But around those dates you can also come across events organized by some of the contrade (the ancient quarters) that will catapult you into an unforgettable atmosphere of community and good cheer!