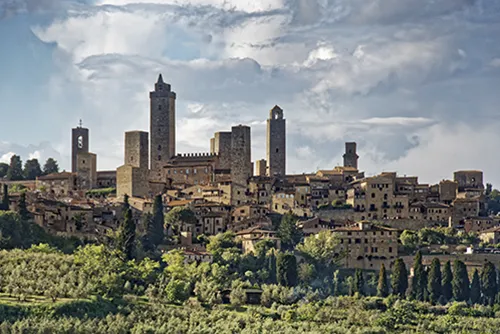 San Gimignano, the "Medieval Manhattan", is located only a few kilometers from the Macinatico holiday farm.
Booking a vacation at a holiday farm in the San Gimignano countryside implies visiting this amazing medieval town at least once. Its characteristic skyline can be admired from the Macinatico estate too.
The distance between our holiday farm and San Gimignano is only 7 kilometers along a beautiful road that meanders through sunny fields and olive groves. The sportier may opt for a trip into San Gimignano by e-bike.
San Gimignano and its towers
The 14 towers that still today make up the distinctive skyline of San Gimignano are what is left of the 72 which originally stood in the medieval town. Each family lived in their private tower-house and was in competition with their neighbor in terms of height and attractiveness.
The highest tower in San Gimignano is the Torre Grossa, which stands in Piazza del Duomo and is 54 meters high. Along with the Campatelli Tower and one of the Salvucci towers, it is currently one of only three towers in San Gimignano open to visitors.
The most famous tower in San Gimignano is probably the Torre del Diavolo (the Devil's Tower). This tower is even reproduced in the Assassin's Creed II video game, which is set in the Italian Renaissance. According to the story, the noble owner of the tower, upon his return from a trip, found it higher than its original height and this phenomenon was attributed to the devil.
What to see in San Gimignano
Among the places to visit in San Gimignano you cannot miss Piazza della Cisterna, the most beautiful square in San Gimignano, located right at the top of the hill, and Piazza del Duomo, where you can admire numerous buildings both civil and religious:
the Collegiate Church (Cathedral of San Gimignano), one of the finest examples of Tuscan Romanesque, which houses the Chapel of Santa Fina with frescoes by Domenico Ghirlandaio (1475);
the Palazzo Comunale (which houses the Museo Civico di San Gimignano);
the Torre Grossa;
the Loggia del Comune (the Town Hall Loggia);
the Old Palace of the Podestà (the chief magistrate), with the Rognosa Tower and the Chigi Tower.