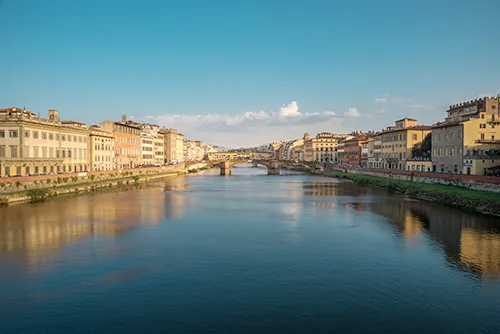 Ideas and suggestions for visiting Florence during your holiday farm vacation near San Gimignano

Should you wish to visit Florence during your stay in Tuscany at the Macinatico farmhouse, you can easily get there in about one hour by car. You will need to take the Firenze-Siena highway at the town of Poggibonsi.
One day is certainly not enough to visit Florence. However, if you end up going there, after visiting the iconic sites, such as the Duomo, Piazza della Signoria and Ponte Vecchio, we suggest you look around to spot, on the sides of some of the palaces, the very small, odd, vaulted windows, located more or less at eye level.
Tour of Florence for wine lovers
This tour of Florence for wine enthusiasts is a sort of treasure hunt to discover an ancient Florentine tradition: the buchette del vino, or the little windows through which flasks of wine were passed and sold. In the 17th century, with the decline of the manufacturing activities that had made Florence prosperous during the Renaissance, the great aristocratic families began to invest in landed estates and agriculture. This is how wine became the new source of wealth for the nobles of the time.
The buchette del vino, or wine windows, served the purpose of selling wine directly from inside the palace, saving on the intermediation of the innkeepers and reaching a wider clientele. These small windows allowed the passage of a flask or a slightly larger container and were often decorated with fine stone frames. This is why they would sometimes be commonly called "wine tabernacles".
The most famous wine windows in Florence are located on Via del Giglio and Via del Sole: it's up to you to discover the others as you wander through the streets of downtown Florence, where every corner is picture-worthy and a lovely surprise.